Looking to Give Back This Holiday Season?
The Cara Pearlman Group is pairing up with the National Center for Children and Families (NCCF) this holiday season to help spread holiday cheer and bring smiles to the children, youth and families in our community.
NCCF is a local non-profit that serves D.C. area children and families in need. It aims to create healthy living environments for vulnerable children, youth, and families through a twenty different programs addressing adolescent services, community-based services, family services, and Foster Care and Adoption Services.
The holiday season is often a time when families come together over food and fun to make new memories and appreciate one another. For families struggling and experiencing crises, however, this is not their reality. The holidays can bring added stress for families who worry about having a roof over their head and food on the table every day.
The good news is that we can assist our neighbors who are struggling!
We are collecting new, unwrapped gifts on behalf of NCCF. Please consider donating any of the items needed below: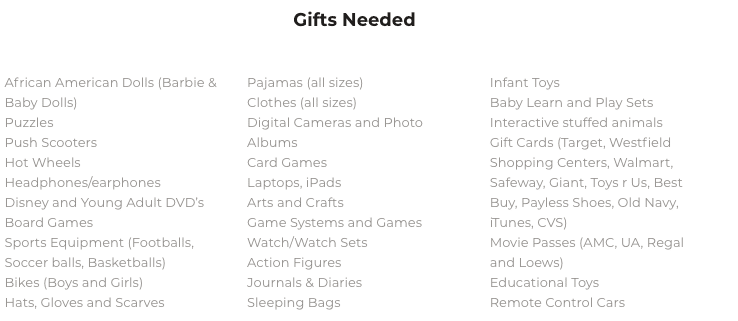 Please drop off gifts in the donation boxes at either of these two neighborhood locations:
11012 Huntover Dr., Rockville, MD 20852
6616 Kenhill Rd., Bethesda, MD 20817
Or if you would like your gift items picked up, please contact: [email protected].